Far East Mom: Great concept but NOT for damp or wet trash
Reviewed in the United States on September 19, 2018
We bought these to stop the usual plastic-bag habit and we are satisfied. I love the pretty color and the texture of these. They feel very soft and luxurious and seem to be handling the weight of our trash ok. There is one feature I do not like and that is that the bags are labeled as 13 gallon but they are sealed off at the bottom in a tied together fashion, so they are not truly 13 gallon size. You do lose some capacity. They would be roomier if they were squared off at the bottom.
What's unfavorable is that they are not at all suitable for wet or even damp trash. They begin to break apart in your garbage can. We only put coffee grinds into our trash but that is wet enough to begin decomposition of the bags.
So we recommend these bags but only for mostly dry trash.
33 people found this helpful.
SefariSoosk: Disintegrates by mere touching!
Reviewed in the United States on November 22, 2018
Surprising that this product passed quality checks: even the sticker arrow on the roll caused a hole under the other side it was stuck on. It just falls apart by mere handling, touching. It's not sufficiently strong to handle kitchen trash bin daily use. I don't know where to use it, and I found that even as a Prime product, I could not return it per some "policy" reason, despite trying to return it within days of purchase. What policy prevents prime users from returning this defective product?!!!
14 people found this helpful.
dmmk: compostable garbage bag!
Reviewed in Canada on February 27, 2019
convinient to have large quantity. Strong enough to hold kitty litter. Compostability is an important feature from eco perspective.
Anastasia: Pretty good!
Reviewed in Canada on October 13, 2019
They are ok. Dont have a seal around them so they fall off the can so we have to real wrap them around tight but they keep the scent in so thats good.
Lilly: Good Quality Bag.
Reviewed in Canada on May 1, 2019
I recently bought these bags for food wastes, durable, sturdy and no issue at all, better than other brands I tried in the past. Will buy again when runs out.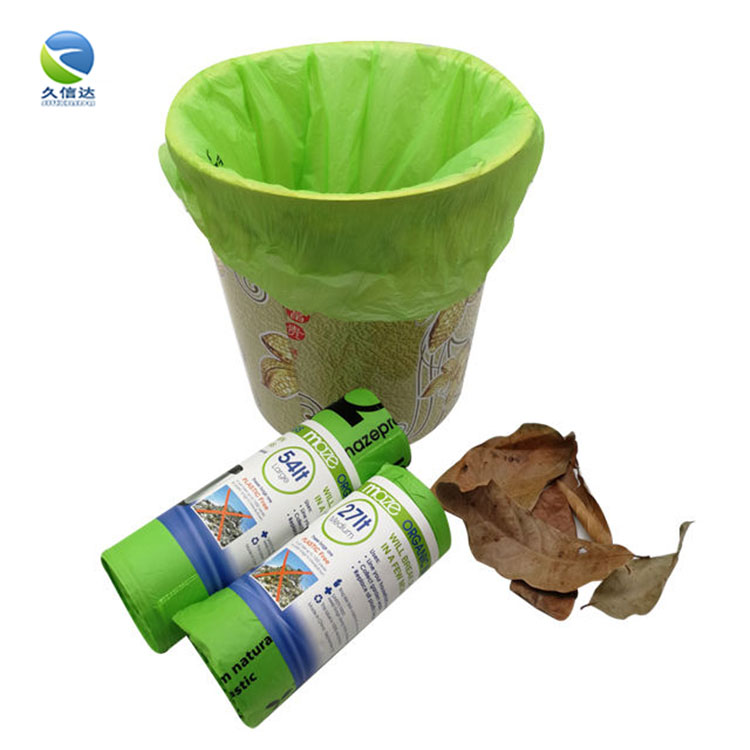 Mercy Maddox: Dissatisfied – Leaks & Breaks easily…
Reviewed in Canada on May 21, 2019
It leaks and breaks easily. As soon as there's a little weight in it, it just tears apart. If you are using this for only dry soft things like leaves, great!
Pavim Bravon: Not at all "heavy duty", easily ripped and poked though. Beware of compost juice!
Reviewed in the United States on June 26, 2019
Certainly not "heavy duty", as the product headline claims. I was hoping that this would make disposing of our food waste easier, cleaner, and more environmentally friendly. Not so much…
Before these, I used a standard 11 gal white plastic kitchen trash bag to line the bin we use for food waste. It was always a pain to try to empty that into the giant outdoor bin (that gets rolled out to the curb for the city trucks to collect). Those bags always slid out with everything else in the bin and I'd have to lean halfway into that giant and super gross bin, and fish it out of a pile of stinky chicken bones and banana peels. And then I'd have to carefully ball up the bag to avoid getting compost juice on me, and put it into the main garbage bin because it's plastic. 🤮
With these compostable bags, I was envisioning just tying up the bag in the kitchen, carrying it outside, and tossing it into the bin. Easy peazy, no more more digging through compost, no more compost juice on my shirt. And as an extra bonus, I'd be saving a plastic garbage bag from the landfill.
However, the reality is that these bags are so thin and fragile, I still need to use a plastic trash bag to line our bin in the kitchen anyways. Eggshells, apple core stems, peach pits – anything with a vaguely rough or pointed end rips through the bag as soon as you pile any additional weight on it. And of course, that means compost juice leaking out all over the inside of the bin.
And then when I take it outside, I have to lift it out very carefully, because the bag is really weak, especially with all the holes poked though, and easily bursts open. Kitchen scraps are actually really dense – I notice that our food waste bin is often significantly heavier than our garbage bin when I carry them outside. I don't think this bag is strong enough or thick enough to actually support the volume of food waste that it can contain.
So this has arguably made disposing of food waste *more* complicated and gross, isn't helping me save the environment, and has brought *more* compost juice into my life.
7 people found this helpful!